In an era dominated by an ever-evolving entertainment panorama, reality shows fascinate audiences worldwide. These unscripted streams have become a cultural phenomenon, presenting viewers with a unique blend of drama, entertainment, and real-life experiences and the chance to escape from their own daily lives for some time.  Reality shows have been a popular genre of television among Indians for decades, generating huge revenue for the Indian media industry.
Live TV once restricted to sports and News coverage has perpetrated studios with consumers getting a glimpse of impromptu reactions and discussions amongst serial protagonists for leisure viewing. This has been possible by part scripting and continuous evaluation of audience engagement. World over, live TV shows are gaining prominence over regular scripted shows.
Through its extensive market research studies, Median Research has attempted to understand what keeps the audience hooked to reality shows and the strategic aspects that enhance their success as a way of arriving at some innovative insights that could be used to uplift their popularity.
In trying to tap into the audience's perspective on reality shows, we came across the following interesting ones:
Authenticity –

– One of the primary reasons the public tunes into reality shows is to seek genuine emotions, raw talent, unscripted conflicts, and real personalities.

Storytelling –

Compelling narratives that show the personal growth and character development of participants to keep viewers invested in the episodes.

Knowledge and entertainment –

Imbibing information about different subjects and cultures, and watching fun games that provide both challenge and entertainment are major hooks that ensure return for the next episode.

Family togetherness –

Reality shows are ideal for allowing the family to gather at the end of the day in a cozy meal-time ritual of watching TV together – an exercise viewed as a mood freshener.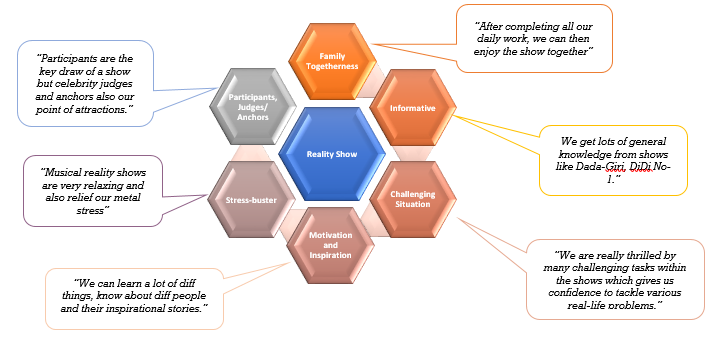 Image: Aspects considered most important in reality shows
Median conducted a survey with insight learning and analysis of viewers' choice on some very popular reality shows and listed some methods that can be followed to improve show quality:
Interactive Engagement –

Utilizing social media, lives, polls, and hashtags could help engage with the audience in real time.

Celebrity Guest Appearances –

Inviting famous celebrities or influencers as guest judges or mentors to enhance show reach.

Behind-the-scenes content –

A new trend wherein the behind-the-scenes incidents could be released online or with other companion shows to offer exclusive interest to the viewers even when the main show is not airing.

Creative Marketing –

Including mainly marketing campaigns, releasing of teasers, trailers, etc. on different platforms to increase show reach.

Exclusive collaborations –

Getting sponsorships from big brands, and introducing cash prizes, gift vouchers, and daily hampers could expand the show's reach.
Summing up, reality shows would continue to thrive by complementing viewers' expectations for the aspects mentioned, elevating a show's popularity and success. In this dynamic media landscape, staying adapted to viewers' preferences and evolving trends in the market is the key to maintaining a competitive edge among players.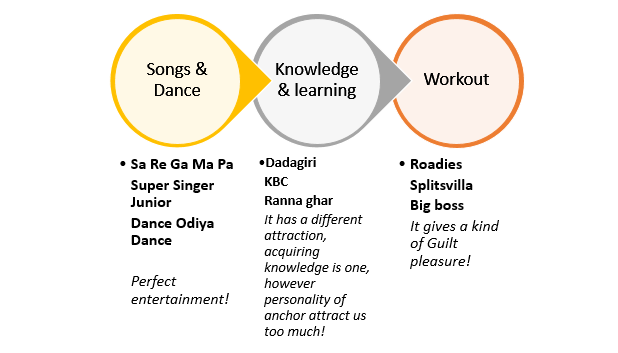 Higher consumer engagement and multi-screen access to content enables users to toggle across different available screens depending on their convenience. Content generators and media companies will need to engage and repurpose their creations to keep consumers engaged by leveraging technology and creativity.
The growing trend of augmenting regular or scripted shows with elements of reality is likely to continue, as viewers find unscripted shows more authentic and engaging. This can be done through live interaction with the audience, storytelling that connects with viewers on a personal level, and the use of technology to create immersive experiences. Hybrid reality shows offer the best of both worlds, with the production values and storytelling of scripted shows combined with the authenticity and engagement of reality shows.
Median research can help gauge consumer sentiments which are dependent on consumer cohorts influenced by geography, and demographics to provide cues for content and approach.