Background & Coverage:
As the country is gingerly stepping out of the COVID related restrictions, Median Research thought of running a short survey amongst its panel members on Quick Service Restaurants.
The sample size of the survey was 1000 including Metro, Tier 1, 2 & 3 cities. The target group included NCCS A & B, Male 54% and Female 46% within Age Group 18 to 50 years.
Top of Mind Recall (ToM):
Respondents were asked to name the QSR (Quick Service Restaurant) that comes to their mind. We were checking the ToM recall of QSR brands.
Domino's with its vast network across the country emerged as the leader in recall with 27% with KFC (25%) a close second. The third, somewhat surprising, brand that emerged was Subway (18%). This might be indicative of the fact that people are becoming health conscious, more so with the pandemic still on. The detailed result in the below chart.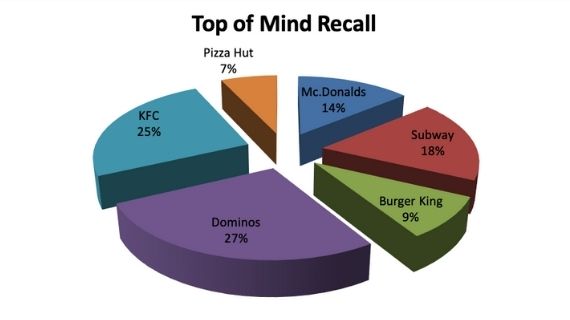 Frequency of Eating at QSR:
More than 1/3rd of the respondents (35%) prefers to have food from QSR brands at least once a week. A whopping 55% do it on a fortnightly basis. Only 15% have fast food less than even once in a month.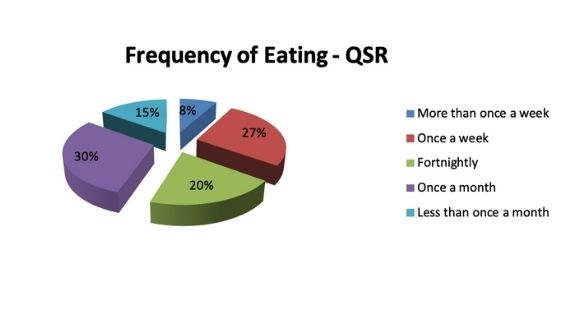 Mode of Ordering:
The dining out culture in India has changed drastically and the changing food habits of the new generation has had a significant contribution to this trend. Favouring contactless dining the takeaway and home delivery has seen a huge upsurge (Totaling 42%) which has almost reached the level of dine out (58%). People are more conscious about their safety due to the pandemic and thus the home delivery and take away modes are on the rise.