Background and Coverage
As the country is severely affected by the covid19 pandemic, people are acclimatized to the idea of work from home and social distancing. There has been a drastic change in viewership patterns where watching web series and movies on OTT Platforms has become an integral part when it comes to entertainment. Median Research has conducted a survey amongst BENGALI GEC VIEWERS to understand the viewership pattern of the respondents.
The sample size of the survey was 100. The target group included NCCS A and B, Male and Female within an age group from 18 to 55years. The responses were spread across Kolkata & Rest of Urban Bengal.
There were certain questions that were asked to the respondents which helped in getting a clear picture of the current trend.
Source of entertainment Television Serials vs OTT Platform
47% of the respondents are avid watchers of OTT platforms while the rest 53% were prone to watch serial more when it comes to entertainment. 
Reason behind watching Television Serial more over OTT Platforms
The reasons behind the serial getting the maximum response were 
lack of time, as women are mostly engrossed in their daily household chores
lack of awareness for OTT platforms
These platforms involve recurring cost which makes them unaffordable for some
As the education system has become online young mothers don't get the time to surf mobile as they are preoccupied with their children's education.
OTT Viewership Frequency
Almost 9% respondents are hooked to various OTT platforms as they watch 5 days or more in a week. 
However, the highest viewership is 2 Days / week with nearly 45% respondents falling in this category. 
The average number of days OTT is watched is 2.6 per week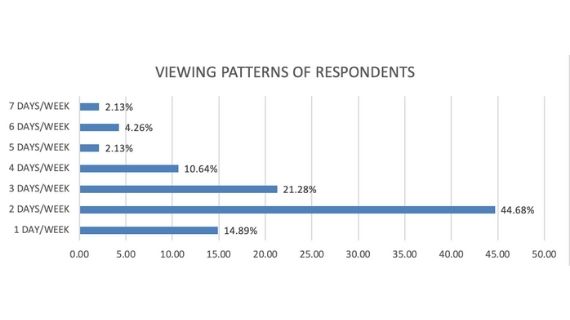 Most watched OTT Platforms
Hoichoi & Hotstar are the 2 most watched OTT platforms in Bengal.
Amazon prime is a distant 3rd with approx. a quarter of the respondents watching it.
Netflix, Zee 5 & Voot have a lot of catching up to do.
Web Series vs Cinema on OTT Platforms
More than 78% of the respondents watch movies on OTT Platforms compared to 43% respondents watching Web Series. 
So, people are making up for actual Movie-Hall experience by watching movies on the OTT platforms. Maybe that's why Hotstar & Hoichoi are leading the pack with both having released some big movies in the recent past.
Shows mostly watched by respondents
The shows and movies mostly liked on OTT Platforms include different genres. 
Web Series
Comedy Genre: Holy Faak, Mix Match,
Suspense and Thriller: Eken Babu, Murder in the Hills, Shei Je Holud Pakhi, Andekhi, Moho Maya, Byomkesh
Women Liberation: Montu Pilot
Movies
Comedy Genre: Jamai Bodol
Women Liberation: Brahma Janen Gopon Golpo Ti, Queen, City of dreams
Effect on Television Shows and Serial due to OTT Platform
The viewers have got an additional platform (OTT) to watch serials on, which gives them flexibility of watching serials at their own time & pace. 
Even with the emergence of so many OTT Platforms over the years 94% of the respondents have stressed that the viewership of Television Serials have not reduced. 
Only 6% respondents with an age bracket of 25-30 years have stated that the Television serial viewership is getting overshadowed by the OTT Platform content.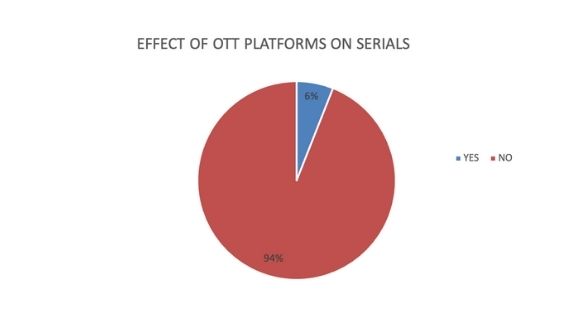 To Conclude we can say that although OTT platforms are catching up fast & becoming popular amongst the viewers, TV viewership – especially that of serials will stay. It's a habit that has become imbibed in the daily routine of the households.