BACKGROUND
Durga puja is the biggest festival which is celebrated with friends and family together. People wait eagerly for Durga puja and plan well ahead – what to do over the five days, which pandals to visit etc. However, since 2020 the scenario is totally different. This year's celebrations are also going to be a little different as the world has been hit hard by the Covid-19 pandemic. It is important to ensure that family and friends remain healthy and safe while celebrating festivals. Median Research has conducted a survey to understand how people are going to celebrate Durga puja 2021 and what is going on in their minds.
The sample size of the survey was 100. The target group includes NCCS A 65% and B 35%. 15% malesand 85% femaleswere covered in the age group of 18 to 50 years.
Certain questions were asked to the respondents which helped in getting a clear picture of the current festive mood.
PUJA FAVOURITES – TOP FIVE MUST-SEE DURGA PUJAS IN KOLKATA
We asked 100 respondents which Pujas they considered the top five not-to-be-missed. They shared the following:
SREEBHUMI – themost favorite
SURUCHI SANGHA 
EKDALIA EVERGREEN 
DESHOPRIYO PARK 
CHETLA AGRANI 
Some favorites in North Kolkata are:
LEBUTALA PARK, BAGBAZAR SARBOJONIN, DUMDUM PARK, MAHAMMAD ALI PARK, KUMORTULI PARK, SANTOSH MITRA SQUARE, CHALTA BAGAN, BABU BAGAN, COLLEGE SQUARE, AHIRITOLA SARBOJONIN
And then there are these in South Kolkata:
NAKTALA UDAYAN, BADAMTALA ASHAR SANGHA, TRIDHARA, BEHALA NATUN DAL, SINGHI PARK, SHIB MANDIR, BOSE PUKUR SHITALA MANDIR, MADDOX SQUARE
PUJA FAVOURITES – THEME OR TRADITION?
Durga puja has been Kolkata's emotion since time immemorial. Presently, the décor of the pandals fall into either of two distinct categories – thematic or traditional. In the Traditional Puja there is more emotion and attachment, and one gets to witness the several rituals from close quarters; whereas the Theme Pujas showcase a competitive flavour and thereby lack much of the emotion. However, in the second, pandal-hoppers get to witness some brilliant craftsmanship of the artistans of West Bengal.Durga Puja 2021 will not be an exception to either trends.
Nearly 52% of the population are in favour of TRADITIONAL Puja whereas the rest (48%) prefer THEME Puja.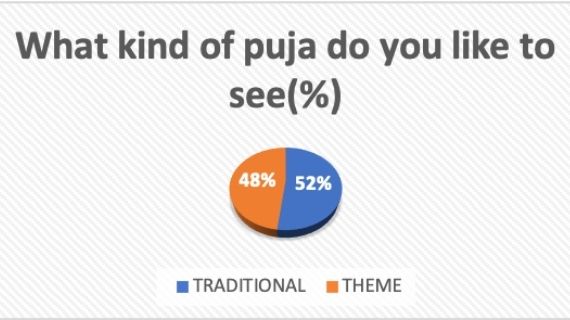 CELEBRATION IN TIMES OF COVID
The coronavirus has been taking a toll on the minds of people across the globe. Several changes have taken place in people's lives – loss of near and dear ones, declining trade and commerce, anticipation for vaccination, advent of online education, and constant monitoring and sanitization.
Pandal hopping during the Pujas have bourne much of the brunt since last year, and this year might not be too different either. When it is difficult for people to survive, it is a luxury to celebrate.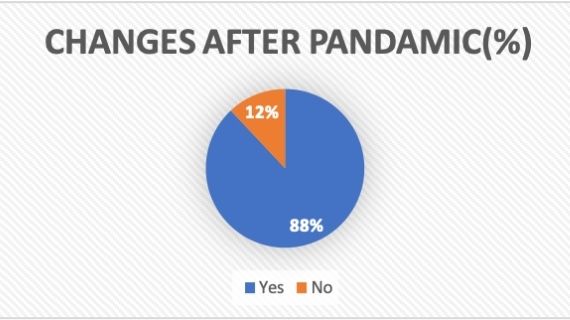 The way we celebrated the arrival of MaaDurga and worshipping her during the five days of her stay have changed in several ways. In our survey, we found that majority of the respondents (88%)do not retain the same festive mood as before, but a very few (12%) still try to. Here's hoping Durga Puja 2021 will ride high on festive cheer.
REASONS FOR THE CHANGES
People have become more cautious about their health since Covid-19 struck, hence they are more sceptical about going out as in the earlier times
The need to use sanitiser and mask all the time is a dampener in the exercise of staying out for long hours
The long-standing night curfew has put a time bar on hanging out in pandals
 People are sceptical of eating out in the Covid times
Wearing masks comes in the way of full-fledged Puja fashion since almost all of the face-effect is lost 
PUJA FAVOURITES – SHOPPING MOOD AND MODE FOR THE PUJAS
Shopping has evolved massively over the last decade. Previously offline shopping was the only mode of shopping, but the advent of the online shopping culture has helped with the busy work schedule as well as health and hygiene requirements in the pandemic situation. Apps like Amazon, Ajio, Myntra, Flipkart, Meesho, Snapdeal, etc. more than make up for the need to go outside for shopping.
In our survey we asked several questions about shopping behaviour and its changes. It emerged that till now only 25% of people believe in online shopping or think it is convenient. 26% still prefer to go to the store and shop for puja purposes, because they still do not have the confidence to buy online. They still think it is unsafe. 
But the interesting point is that a major percentage of people (48%) are accustomed to both online and offline shopping and they love to shop in both modes. This leads us to believe that both online & offline shopping are here to rock Durga Puja 2021.
PUJA FAVOURITES – MOST PREFERED ONLINE SHOPPING APP
41.08% of the people liked AMAZON which is in 1st position, 
28.45% of the people liked FLIPKART in 2nd position and
16.80% of the people liked MYNTRA in 3rd position 
Also,10.95% of the people liked MEESHO. 1.36% of thepeople liked AJIO and FACEBOOK MARKETPLACE each.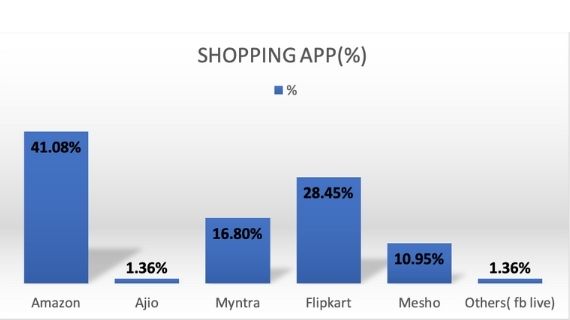 PUJA FAVOURITES – EATING OUT OR ORDERING IN?
They say good food can immediately lift your mood, and that is primarily the reason why there is a food item for every occasion, be it professional success or personal celebration. Food establishes connection like nothing else. Previously, going out to eat was a weekly or monthly affair but with the thriving benefits of online ordering, one at times prefers to enjoy their favorite delicacies from the comfort of their home.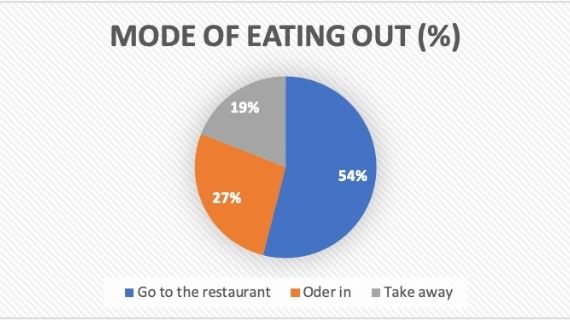 We asked our survey participants about their food behaviour especially keeping in mind the Durga Puja festivities. The purpose was to understand if there is any change in food preference during the Puja. It came across that people are not as ready as before to eat out in their favourite eateries. Though 54% people still go to restaurants, the remaining 46% prefer either ordering in or take-away mainly to avoid crowds and chances of contamination. 
PUJA FAVOURITES – MOST FAVOURED FOOD APP
Swiggy and Zomatoare way ahead of other apps. 51.85% people prefer Zomato app to order in their food, closely followed by Swiggy at 48.14%.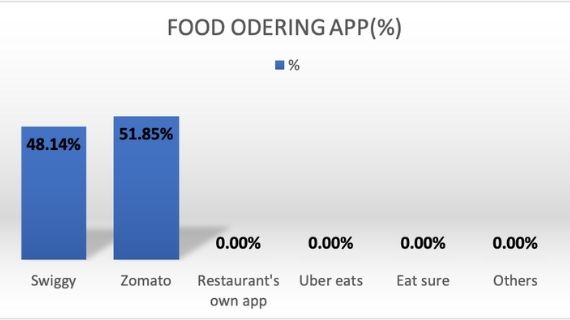 Zomato ranks slightly higher than Swiggy because of the better service it provides in delivering food. No other food app found any mention.